I hope by the tune you finish reading this article, you will pick up the phone, call out sick, call a fishing buddy and head down to Fletcherís Boat House for some fantastic shad fishing. The hickory shad will be migrating up the Potomac River from early April until the first week in May, with the white shad (American) usually arriving by mid April. These fish can be caught using a variety of lures, fished deep, such as shad darts, colorful crappie jigs, small shiny spoons and small white bucktail jigs. Flyfisherman use small white douser minnows, colorful flies, mylar and tinsel flies with sinking fly lines, but on occasion, the hickory shad will strike close to the surface, so floating lines will work.
River conditions can be unpredictable this time of year, due to heavy Spring rains. Donít hesitate to call Ray, Joe or Danny at Fletcherís Boat House (202-244-0461) for current river conditions or the latest fishing report. These guys know the river and are extremely helpful. When visiting Fletcherís, donít forget to pick up your D.C. Fishing License (resident $7.00 non-resident $10.00). And for the more experienced fisherman of 65 years and up, no license is required. Boat rentals ($17.00 for the day), bait, tackle and food are also available at Fletcherís.
In May and early June, fish Fletcherís or the Chain Bridge area for some hard-hitting stripers (Rockfish) or the millions of white perch that migrate up river.
The fishing season will then take you right to our Sycamore Island from late June to October 31st. The variety of fish around Sycamore are walleye, bluegill, catfish, smallmouth and largemouth bass, carp and a few rockfish and goggle-eye bass (Rock bass).
August and September are my favorite two months for catching smallmouth bass, using topwater flies and lures. These fish are very aggressive and strong fighters, often leaping a foot or two out of the water in an attempt to spit the fly or lure from itís mouth. I noticed the bigger smallmouth always show off before they escape (thatís why I only have pictures of small fish). The trick to catching a lot of smallmouth bass with topwater flies and lures is having the perfect river conditions (and a little luck doesnít hurt).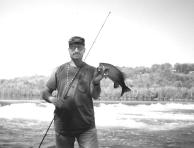 The author claims to have only pictures
of small fish. Sure, George, tell us about
this tiny smallmouth bass down at Little Falls.
The river stage needs to be around 3.0 feet (Little Falls gauge) or lower for great fishing. The longer we go without rain, the better for river clarity, consistent water temperature (the warmer the better), and less river current. A slight breeze out of the south, pushing your canoe up river during low river levels, can provide some excellent fishing. But generally, the wind is a fishermanís worst enemy. Having low light conditions is needed for most topwater smallmouth action. I prefer to fish in the evenings, during the last two hours of daylight, at which time I begin to paddle up river and then slow-drift down river on the Virginia shoreline or straight down the middle. This allows you to cover more area, make less noise and hopefully, catch more fish. Just remember, the Island closes at dusk and it is extremely difficult to head back in when the fish are biting (Itís not very comforting when Doc gives me those after-hours lectures).
Malusky offers this illustrated list to recommend his
favorite lures for fishing in the waters around Sycamore Island.
During the 1999 drought, topwater fishing was at its best, often catching lots of smallmouth, bluegill, and even catfish on a variety of poppers with the fly rod. I like to use deer hair, cork and foam poppers, all with rubber legs, when using the fly rod. When using the spinning rod, I use the tiny torpedo, the pop-r and the zara puppy for topwater lures.
So good luck fishing this year and itís NOW shad season! By the way, the workfest is scheduled for April 28. Hope to see you there!